2019 Celebrate Motherhood Project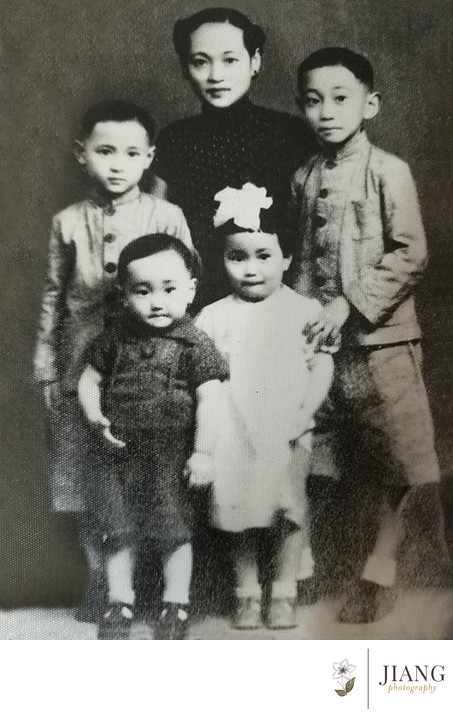 1
When I was a child, I remember there was always a photo sitting at the center of my father's desk in his office. It was a portrait of a beautiful woman with four young children.
I asked my father: "Who is this woman?"
"It is your grandma." My father said.
"Which one is you?" I asked, puzzled.
My father gazed at the photo with a loving look and answered: "I was not born yet."
I remember how surprised I was! This is the only photo I have with my grandmother and her young children. Being a single parent, she endured many hardships and raised all five children by herself. Among them, three have become accomplished economists in China. I knew my grandmother was a courageous, strong and determined woman. However, without this photo, I would never have known how beautiful, elegant and graceful she was as a mother!
To our family, this photo is a timeless portrait, cherished by her five children and twelve grandchildren.
2
Around the time I became pregnant with my first child, I also discovered that my mother had been diagnosed with lung cancer. In the last months of her life, I was at her bedside. I put my mother's hands on my tummy to let her know she would be having a granddaughter soon. My mother was able to feel her granddaughter's movement for the first time – so gentle, like a butterfly's tapping.
Four months after my mother passed away, my daughter was born…
My daughter's birth was an emergency C-section that I will never forget. I vividly remember when we brought our daughter home from the hospital. It was a wintery day and the first thing my husband had to do when we arrived home was to shovel the driveway. As I sat alone in the car, I looked at our baby in her car seat, covered by a yellow blanket and wondered: "What am I going to do with this tiny thing?"
That is how motherhood started for me twelve years ago. I can honestly say that nothing has taught me more in life than being a mother.
My children are also the reason I have become passionate about portrait photography. Motherhood portraits hold a very special place in my heart.
3
I invite you to join in my 2019 personal project: Celebrate Motherhood –Define what Motherhood means to you? You could be one of 52 moms.
You will be qualified to participate in this project if:
you are a mother, an expecting mother, a grandmother or an adult child.
you have a strong desire to have beautiful studio portraits taken with your precious children or grandchildren; or as an adult child, portraits taken with your own mother.
you would be willing to write a letter to your children/or mom and to share it.
you would like to write a paragraph to define what Motherhood means to you.
Each week, a mother will be selected for a photo session. At the end of the project, a book will be produced highlighting your portraits and stories. One chapter will be devoted to each of the 52 unique portraits/stories. You will receive a $450 studio credit for your participation in this project. There will also be a year-end party to meet all the amazing moms who have participated in this project and to celebrate our collective journeys of motherhood.
Would you like to be a part of the 2019 Celebrate Motherhood project? If YES, please fill in the form to apply! I am looking forward to hearing your story, capturing your love, and getting to know you!
(*Note: the session is free but there will be a charge for any portraits you wish to order. Your studio credit may be applied against any charges.)
Please follow this project on:
Facebook: Jiang Photography Facebook
Instagram: Celebrate_Motherhood_Project
*UPDATE: Thank you to everyone who applied. All 52 spots have been filled and we will no longer be accepting new applicants for the 2019 Celebrate Motherhood Project. A book highlighting the stories and portraits of all 52 moms will be published after the project completes.
At this time, we are accepting motherhood, family and children's portrait sessions booking for September 1st 2019 to December 15th 2019 period. Please click Contact to book your session.